In Memoriam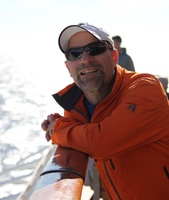 Remembering Michael Plevak, MD
Dr. Michael Plevyak, a beloved Maternal Fetal Medicine physician passed away August 13. Mike graduated from medical school in 1993 from SUNY upstate, and went on to a residen at Baystate Medical Center in Springfield, MA. His passion for obstetrics led him to a fellowship in Maternal Fetal Medicine at Women's and Infants Hospital/Brown University in Providence, RI. After serving on the faculty at Brown University and Albany Medical Center for a combined five years, he returned to Baystate Health and was an integral member of the Department of Obstetrics and Gynecology. Mike became the Associate Program Director for the Ob/Gyn Residency program in 2009, and he proved to be a passionate and effective force in teaching, mentoring, and curriculum design. Mike became a member of ACOG's PROLOG in 2013 and its co-chair since 2016.
He will be forever loved by his wife, Dr. Sudeep Aulakh, and their children Sajen and Raina. Mike's generosity of spirit and humorous outlook on life will also be remembered by many other family members, friends, colleagues, residents, students, and patients. He was devoted to his family and was a gifted and well-loved teacher and physician. Mike was an avid runner and sports fan (especially the Red Sox and New York Jets) who loved to travel and drink good craft beer.
Remembering Kenneth R. Kellner, MD, PhD
Dr. Kenneth Kellner, passed away on January 14, 2017, after a battle with cancer. A long-time member of the Society, Dr. Kellner's interests were diabetes and pregnancy and psychosocial aspects of obstetrics. He was the Director of the Perinatal Diabetes Program at the University of Florida and founder and Director of the Perinatal Mortality Counseling Program. He was an internationally-recognized expert and served as President of the North American Society for Psychosocial Obstetrics and Gynecology.
A dedicated family man, Dr. Kellner is survived by his high school sweetheart and wife of 46 years, Irene, his two sons, daughters-in-law and grandchildren, Adam (Tracy, Morgan, Aubrey) and Evan (Coleen, Ella, Ethan and Daniel). Ken and Irene traveled the world visiting six of the seven continents. However, their favorite places to visit were Atlanta and Chicago to spend time with their children and grandchildren. Learn more about his life and accomplishments here.
---
A donation to the Foundation for SMFM is one way to honor a SMFM member who has died. Your gift to the Foundation is an investment in the future of maternal-fetal medicine. Each gift advances pregnancy care through research scholarships, global initiatives in patient care and scientific endeavors, grants for clinical education, and mentorship in training the next generation of clinicians and scientists involved in improving pregnancy care. Once a financial gift is received, the Foundation will send a card to the family acknowledging your gift.
If you would like to notify SMFM staff that a MFM colleague has passed away, please read our In Memoriam policy and email smfm@smfm.org with the proper information