Support Access to the Full Spectrum of Reproductive Care
SMFM's support for reproductive rights and freedom is unwavering. Join us and #ActForAccess using the resources below.
UPCOMING WEBINARS & IN-PERSON EDUCATION

After Roe: Preventing Harassment and Violence Against Health Professionals Who Provide Reproductive Care (Live, Online Only)
Join Dr. Justin Lappen, Chair of SMFM's Reproductive Health Advisory Group, for a webinar from NASEM on December 11 at 10:30 AM ET.
Buidling Evidence-Based Skills for Effective Conversations about Abortion (Live, Online Only)
Join Drs. Cara Heuser, Leilah Zahedi-Spung, and Nisha Verma on January 3, 2024 at 12 noon ET, for a Fellow Lecture Series webinar. This event will not be recorded.
SMFM 2024 Pregnancy Meeting, In-Person Event
Registration is now open for the 2024 Pregnancy Meeting in National Harbor, MD (near Washington, DC) on February 10-14, 2024. The meeting will feature a full-day Postgraduate Course with CME, Language Matters: Impacts on Abortion Care and Policy; several "Ask a Lawyer" drop-in sessions with the Abortion Defense Network; a Scientific Forum, Comprehensive Reproductive Health; a Luncheon Roundtable Spotlight on Reproductive Health: Updates from the SMFM Reproductive Health Project, and more.


Over the Counter Oral Contraceptives: The U.S. Food and Drug Administration approved the nonprescription sale of Opill (norgestrel) in July, 2023. Access information about safety, insurance coverage, and expected availability of the product.

Medical Emergencies and Access to Abortion Care: Federal law (EMTALA) requires hospitals that receive Medicare funds to treat anyone who presents with an emergency medical condition. Access 2023 guidance from the U.S. Department of Health and Human Services regarding EMTALA and abortion care, and learn about SMFM's efforts to provide expert input in related court filings.

Medication Abortion: There are currently several high-profile cases moving through the courts, impacting access to mifepristone. Learn more about SMFM's advocacy efforts access clinical resources related to medication abortion.
ACCESS TRUSTED RESOURCES FOR PATIENTS NEEDING ABORTION CARE. SMFM offers a curated list of trusted resources to assist MFMs in addressing the needs of patients seeking abortion-related services. These resources can help identify referral sites, funding opportunities, practical support for travel and other costs, emotional support, and more.
JOIN THE STATE LIAISON NETWORK. SMFM members can join the State Liaison Network and receive regular state-based policy updates via our quarterly newsletter and regular webinar series. Visit the Advocacy Hub to see what SMFM is doing in your state and get resources to advocate for optimal and equitable perinatal outcomes.
GET LEGAL SUPPORT. The Abortion Defense Network connects abortion providers and supporters with values-aligned attorneys prepared to provide legal advice, representation in criminal proceedings, representation in civil proceedings, and legal defense funds that cover attorney fees and other legal expenses. Anyone in the U.S. working to provide or support abortion can seek assistance from the Abortion Defense Network. If you have a legal need, please visit the Abortion Defense Network website and complete the intake form. Once you submit the form, an attorney navigator will contact you within 24 hours.
CLINICAL AND POLICY PUBLICATIONS. Under the leadership of Reproductive Health Advisory Group, SMFM has developed and endorsed a series of clinical and policy documents since the Dobbs decision.

Medication Abortion Between 14 0/7 and 27 6/7 Weeks of Gestation (October 2023)

Management of Hemorrhage at the Time of Abortion (October 2023)

Special Statement: A Critical Examination of Abortion Terminology as it Relates to Access and Quality of Care (December 2022). Access a related webinar and podcast below.

Clinical Considerations for Management of Severe Complications When Abortion Care is Restricted (August 2022)
SHARE YOUR STORIES

SMFM launched an advocacy blog in 2023. Consider sharing your experiences providing MFM care since Roe was overturned. Blog posts can be personal stories, may compel colleagues to join your advocacy efforts, or help readers better understand the impact of abortion bans and restrictions on high-risk patients. Contact Kerri Wade for more information.

SMFM is regularly approached by policymakers and reporters who want to better understand the impacts of abortion restrictions on high-risk pregnant people and MFMs. One powerful way for MFMs to influence public policy and public understanding of abortion is to share their lived experiences. Recognizing that many MFMs may not be permitted to and/or are hesitant to describe what is happening with their patients in public forums, SMFM has created an anonymous story collection tool. Learn more and share your story here.

Researchers at University of California San Francisco are collecting de-identified stories of clinical management that has changed since Roe was overturned. Through an anonymous survey, health care providers may leave a written narrative or a voice memo describing the case. Visit CarePostRoe.UCSF.edu for more information about the study and to submit your story.

RECORDED WEBINARS & PODCASTS

NASEM hosted Reproductive Health, Equity, and Society - A Workshop to Explore Data Needs in the Wake of the Dobbs v. Jackson Women's Health Organization Decision (October 2023)

Based on the Special Statement, A Critical Examination of Abortion Terminology as it Relates to Access and Quality of Care, SMFM co-hosted a webinar with the Society for Family Planning called, Language Matters, to help clinicians communicate more effectively about abortion care. Recorded February 2023. CREOGs Over Coffee hosted a complementary podcast with statement authors, Drs. Cara Heuser and Sarah Horvath. Recorded April 2023.

SMFM hosted two webinars as part of the Fellow Lecture Series: The Impact of Abortion Restrictions on MFM Training (recorded October 2022) and Post Roe v. Wade (recorded August 2022).

SMFM hosted a webinar in July 2022, Access to Abortion Serivces for High-Risk Patients Post Roe.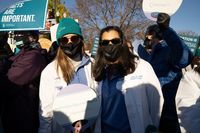 More information on SMFM's work to protect and expand access to reproductive health care services can be found at www.reproformfm.org. Questions? Contact RHProject@smfm.org.