Support Access to Abortion Rights and Care
SMFM's support for reproductive rights and freedom is unwavering. In the wake of the Supreme Court's decision to overturn Roe v. Wade, SMFM has prepared resources and information to support our members with the promise of more to come. Join us in supporting access to abortion care and #ActForAccess using the tools below:
JOIN: SMFM members can sign up for the State Liaison Network and receive regular state-based policy updates via our new newsletter, as well as resources and tips to advocate for pregnant people in their state.
LEARN: SMFM will host a number of in-person and online learning opportunities. Upcoming webinars include:

On August 16, SMFM will partner with the Society for Family Planning in a webinar to discuss legal resources for the family planning community. This webinar is open to members of the Society of Family Planning, the Abortion Care Network, the National Abortion Federation, and SMFM. Register here.

SMFM hosted a members-only Fellow Lecture Series webinar addressing strategies for providing care post-Roe and mitigating adverse outcomes.. The recorded webinar is available here. (August 3)

SMFM hosted a webinar to share more about the Supreme Court's decision, what is expected in the states, and how you can access support from SMFM. The recorded webinar is available here. (July 19)
BE COUNTED: Consider participating in the Society of Family Planning #WeCount initiative, a time-limited, national effort to collect data from abortion providers across the country about the number of abortions provided each month. The data will be shared in aggregate, by state, with stakeholders to shape policy and other decision-making in the wake of this decision. For more information, reach out to Vanessa Arenas at varenas@societyfp.org.
AMPLIFY: Is your institution considering a public statement in support of evidence-based reproductive health care? Read our latest Reproductive Health Project blog post to learn about the importance of institutional support, and add your statement to the list.
DONATE: A number of organizations are helping patients offset costs related to abortion access and clinical care. The groups listed in the articles below all support access to abortion care:
UNDERSTAND: SMFM has engaged in clinical, advocacy, and educational efforts to support access to abortion care. Learn more about the history of our work.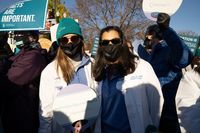 More information on SMFM's work to protect and expand access to reproductive health care services can be found at www.reproformfm.org. Questions? Contact RHProject@smfm.org.