Support Access to Abortion Care
SMFM's support for reproductive rights and freedom is unwavering. Join us and #ActForAccess using the tools below.
JOIN THE STATE LIAISON NETWORK:  SMFM members can sign up for the State Liaison Network and receive regular state-based policy updates via our new newsletter, as well as resources to advocate for optimal and equitable perinatal outcomes in their state.
SHARE STORIES OF CLINICAL CARE POST-ROE: Researchers at University of California San Francisco are collecting de-identified stories of clinical management that has changed since Roe v. Wade was overturned. Through an anonymous survey, health care providers may leave a written narrative or a voice memo describing the case. Visit CarePostRoe.UCSF.edu for more information about the study and how you can anonymously submit your story. Examples of the type of stories they are seeking, include:

Delayed provision of abortion care for people whose health may be compromised by continuing pregnancy (including young adolescents)
Delayed management of ectopic pregnancy
Delayed treatment for spontaneous pregnancy loss and preterm premature rupture of membranes
Difficulty providing standard-of-care treatment due to the concern of causing an abortion, regardless of whether the patient was pregnant or not (e.g., chemotherapy, methotrexate, or misoprostol for a non-abortion indication)
LEARN: SMFM will host a number of in-person and online learning opportunities.

Join the SMFM State Liaison Network for a webinar on Tuesday, December 13 from 12:00-1:15pm EST titled, Clinicians as Advocates: Preparing for 2023 State Legislative Sessions. We will review the current state of abortion access across the country, paying special attention to policies introduced and enacted post-Dobbs, before diving into what to expect from 2023 state legislative sessions. We will also discuss opportunities for clinicians to advocate for abortion access in their states. This webinar will feature Elizabeth Nash, Guttmacher's Principle Policy Associate on State Issues, as a Guest Speaker

This webinar will feature Elizabeth Nash, Guttmacher's Principle Policy Associate on State Issues, as a Guest Speaker

Join the SMFM Reproductive Health Project for a members-only virtual convening on Tuesday, November 29 from 7:00-8:00 PM EST. Hear about the work of the SMFM Reproductive Health Project and engage in an open discussion with colleagues, SMFM staff, and leadership about the impact of abortion restrictions on MFM practice and how the Reproductive Health Project can support you. Register here. Contact the SMFM Reproductive Health Project at rhproject@smfm.org with any questions.
AMPLIFY: Is your institution considering a public statement in support of evidence-based reproductive health care? Read our latest Reproductive Health Project blog post to learn about the importance of institutional support and add your statement to the list.
UNDERSTAND: SMFM has engaged in clinical, advocacy, and educational efforts to support access to abortion care. Learn more about the history of our work.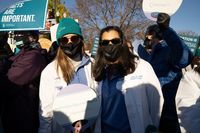 More information on SMFM's work to protect and expand access to reproductive health care services can be found at www.reproformfm.org. Questions? Contact RHProject@smfm.org.